NEW ITEM!
Ranching Under the Rainbow – Monty Richards of Kahuā Ranch
Softcover Book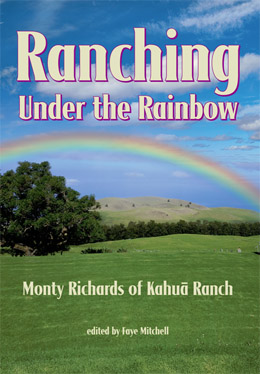 Now Available! In 1957 Monty Richards assumed management over his family's legacy, nearly 20,000 acres of land between Hawi and Waimea called Kahuā Ranch. Adjacent to the vast Parker Ranch, Kahuā was one of the largest in Hawai`i. To Kohala, Kahuā was not only one of Hawaii's most vital cattle ranches, it also held one of the last intact villages of old Hawai`i, home to more than 30 ranching families. From the origins of Kahuā Ranch in the early 1920s to the stories of early cattle ranching and the people of Kahuā, Monty entertains in his own delightful style of "talking story."
With over 40 private photos from the ranch archives as well as personal tales of Monty's life that took him to mainland as a teen and then back to Kahuā as a young man, this book will provide any reader who loves the stories of old Hawaii, and ranching in particular, with hours of fascinating reading. Over twenty-five hours of oral history are transcribed here, all told with the well known humor and love of the Hawaiian people that is Monty's trademark.
Visit the North Kohala Community Resource Center to pick up your copy OR order here now (shipping fee applies to all domestic on-line purchases. For international orders, please call our office at (808) 889-5523):
Historic Kohala T-Shirt – Design on Front Only
Clothing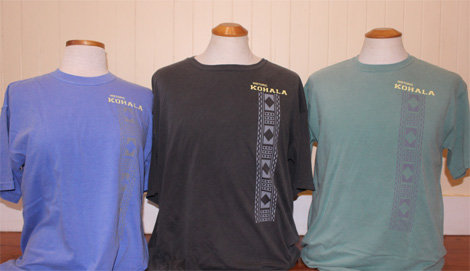 These shirts are available in blue, pepper (dark grey), and green in sizes small to XXL. Shirts have a tapa design on the front and a blank back.
Visit the North Kohala Community Resource Center to purchase OR order here now (shipping fee applies to all domestic on-line purchases. For international orders, please call our office at (808) 889-5523):