Available at the Welcome Center!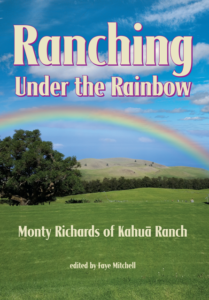 NKCRC is proud to announce the release of "Ranching Under the Rainbow - Monty Richards of Kahua Ranch." Featuring many never-before-published photos from the Richards family private archives, this oral history is more than the story of Monty's life, it is the story of Kohala's rich ranching history as it has been lived for generations at Kahua Ranch. Over twenty-five hours of oral history are transcribed here, all told with the well-known humor and love of the Hawaiian people that is Monty's trademark.
This book is published by Living Journals, a sponsored project of NKCRC under project organizer and editor Faye Mitchell.
A perfect gift for anyone with an interest in Kohala's ranching history or someone who just enjoys a good story!
The book is available for $20 at the Kohala Welcome Center or at the online store on our website (shipping costs apply). Click HERE to order, or stop by the Center, Monday through Thursday, 9 am to 4 pm or Friday, 9 am to 3 pm.
Christine Richardson Receives Ho'okele Award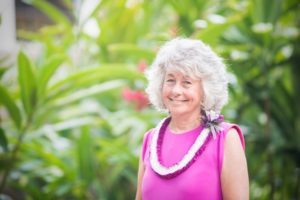 The NKCRC Board of Directors is proud to announce that our Executive Director, Christine Richardson, was one of five nonprofit leaders statewide who were recognized for their commitment to making Hawai'i a better place at Hawai'i Community Foundation's 15th Annual Ho'okele Awards.
The Ho'okele Awards, created and funded in partnership with the Wallace Alexander Gerbode Foundation, pays tribute to and strengthens the leadership in the state's nonprofit sector by providing selfless leaders with an opportunity to renew themselves in their personal and professional lives. As part of the award, Christine will receive a $10,000 grant to be used for her professional development and personal renewal.
Christine has served North Kohala for more than 22 years as a nurse and nonprofit manager. She has been the Executive Director for the North Kohala Community Resource Center since 2005.
The staff and Board of the Resource Center are proud of Christine's accomplishments and appreciate her hard work on behalf of the Center, our 90 sponsored projects, and the North Kohala community.
Our Most Recent Newsletters & Annual Reports
Catch up with the latest NKCRC news and updates Click here for more info...