A Great Way to Love Kohala
Since NKCRC became incorporated as a nonprofit organization in 2002, we have provided development support and fiscal sponsorship for more than 125 projects that continue to benefit the North Kohala community.

NKCRC Welcomes New Board Members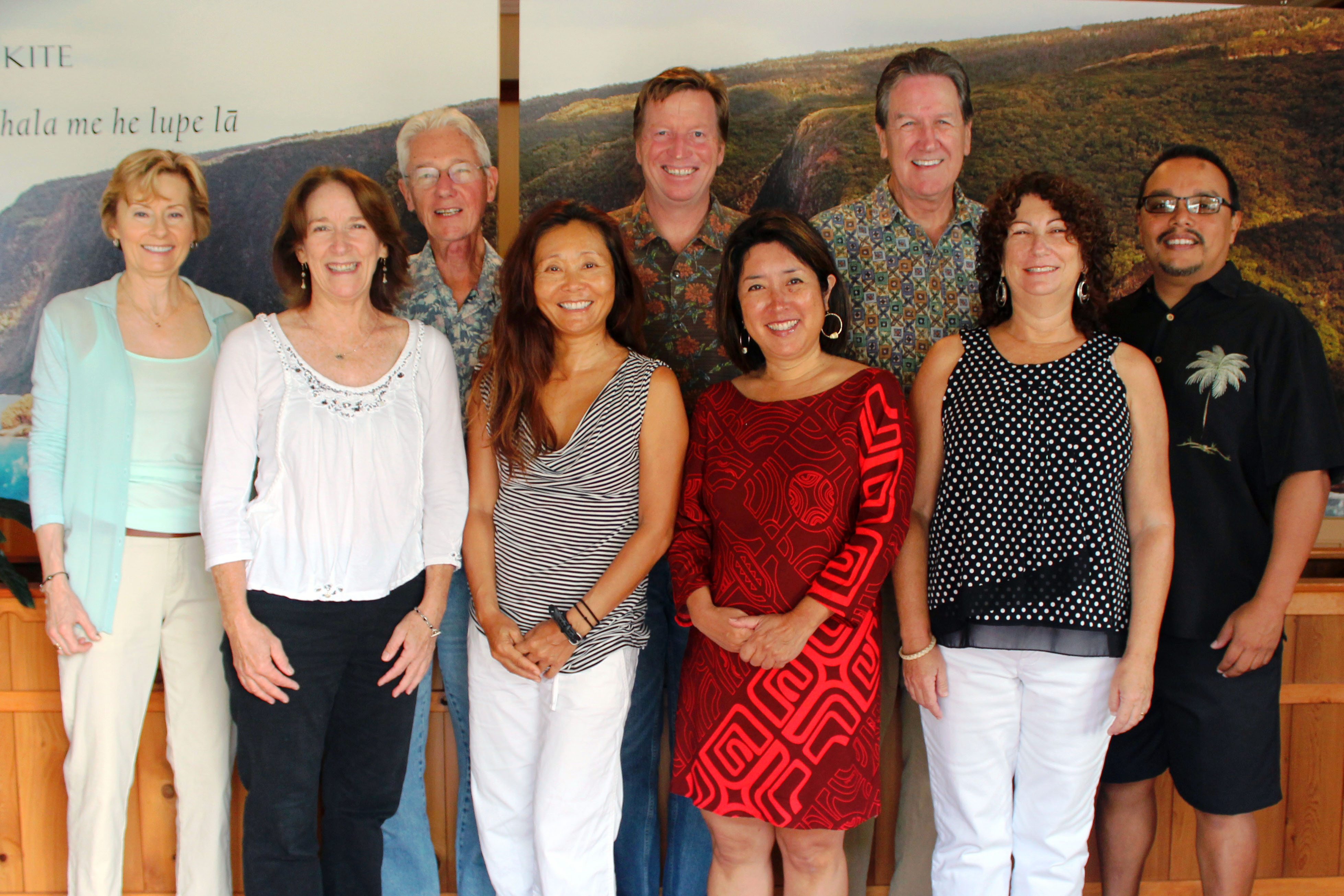 NKCRC welcomed two new directors to our Board in December: Chizuko Westrum, a longtime resident and retired businesswoman, and Chris Brown, retired Kohala High School teacher. NKCRC is delighted to have founding director Gino Amar serving as the new President with Bob Martin as Vice President, Alida Adamek as Treasurer, and Amy Meyer-Sullivan as Secretary. We greatly appreciate all of our volunteer Board members who give so much to support the work of the Center!
Our board, left to right, front row: Kim Takata, Chizuko Westrum, Wendy Nickl, Amy Meyer-Sullivan; back row, Alida Adamek, Bob Martin, Chris Helmuth, Chris Brown and Gino Amar.

We look forward to another great year in 2015 of supporting projects that benefit the North Kohala community.



NKCRC Featured in North Hawaii News
Lisa Daum, editor of North Hawaii News, wrote a beautiful feature article about the Resource Center and the work we do in the North Kohala community. Read all about it HERE.

If you would like to find out more about NKCRC, its history and the people who make it a great organization - please see these links.
Find out more about NKCRC's projects....NKCRC has been actively involved in providing bridges to funding for innovative projects since 2001. Please see these links for projects created and delivered by the North Kohala community.
Give....Your contributions are vital to NKCRC and its programs. You can play an important role in supporting NKCRC and the community. If you would like to find out more about the many ways to give - please see these links...
Want to Find Out More?The Board and Staff of NKCRC welcome your ideas and questions. Please contact us if you would like more details, or visit our FAQ's page.
Our Latest News
Discovery Garden Comes Under NKCRC Sponsorship
We are thrilled to announce that the Discovery Garden at Kohala Elementary School has been accepted for fiscal sponsorship by NKCRC. This wonderful project provides children with hands-on education in gardening and nutrition and is utilized across the curriculum to teach concepts in mathematics, Hawaiian culture, and science.
Beautiful North Kohala t-shirts now available at the NKCRC
The Kohala Welcome Center is now selling high-quality, colorful North Kohala t-shirts! Call the NKCRC if you would like more information about how to purchase one for yourself, a loved one, or a friend.
NKCRC Welcomes Several New Projects in late 2013
We are pleased to welcome Hula Halau Mana'olana 'O Kohala, Hula Halau O Kukui Aloha 'O Kohala, and Kohala Radio. The two halau are sister groups who will work cooperatively as their leaders, Hope Keawe and Leia Lawrence, study and prepare to become kumu hula. Kohala Radio is led by a diverse group of organizers seeking to bring a local community radio station to Kohala.
Annual E-auction held in November 2013
Mahalo to all of you who supported the Center by donating or buying items in our annual online auction. This is a great way to support the Center either by donating an item or by making a bid. Mark your calendars for next fall's 2014 auction - there's something for everyone!
'Kohala Welcome Center' Celebrates Two Years
The Kohala Welcome Center saw 13,689 visitors come through its doors in 2013! The Welcome Center continues to provide clean public restrooms and a beautiful hallway of storyboards for both the community and visitors to enjoy. Kohala books, music, T-shirts, caps and maps for sale help to support the work of the Resource Center. To learn more about the opening of the Kohala Welcome Center, Continue Reading Here
Our Most Recent Newsletters & Annual Reports
Catch up with the latest NKCRC news and updates Click here for more info...