A Great Way to Love Kohala
Since NKCRC became incorporated as a nonprofit organization in 2002, we have provided development support and fiscal sponsorship for more than 125 projects that continue to benefit the North Kohala community.
The 2013 e-Auction
Our online auction has closed. Mahalo to all the donors and bidders – your participation made this auction a great success for the Center. Winners will be notified by email.
NKCRC's Recognition Evening - A Truly Kohala Event!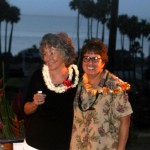 The North Kohala Community Resource Center celebrated in true Kohala style with our Recognition Evening at Puakea Ranch on April 27th. Over 350 friends and guests joined the fun as we honored Shiro Takata and the many NKCRC project organizers and volunteers who make our community such a great place to live. Patrons enjoyed live music by David Gomes and John Cruz, participated in a spirited live auction, and sampled delicious food created by local chefs. We extend our heartfelt thanks and aloha to everyone who helped make this event such a success.
Akoni Pule's Legacy Honored with Highway Marker
For the many visitors and newcomers who have wondered about the name of the coastal highway that leads from Kawaihae to Pololu, the mystery is over. On July 7, members of the Pule `ohana joined the staff and directors of the North Kohala Community Resource Center to dedicate a new sign board which explains who Akoni Pule was, his contributions to North Kohala, and why the highway was named for him. Continue Reading We invite you to learn more about NKCRC....If you would like to find out more about NKCRC, its history and the people who make it a great organization - please see these links.
Find out more about NKCRC's projects....NKCRC has been actively involved in providing bridges to funding for innovative projects since 2001. Please see these links for projects created and delivered by the North Kohala community.
Give....Your contributions are vital to NKCRC and its programs. You can play an important role in supporting NKCRC and the community. If you would like to find out more about the many ways to give - please see these links...
Want to Find Out More?The Board and Staff of NKCRC welcome your ideas and questions. Please contact us if you would like more details, or visit our FAQ's page.
Our Latest News
Beautiful North Kohala t-shirts now available at the NKCRC
The Kohala Welcome Center is now selling high-quality, colorful North Kohala t-shirts! Call the NKCRC if you would like more information about how to purchase one for yourself, a loved one, or a friend.
NKCRC Welcomes Several New Projects in early 2013
We are pleased to welcome Lavaroots Performing Arts and Ohua O Na Kia I No Na Keiki O Ka Aina to our family of sponsored projects. Lavaroots is a performing arts company and Ohua O Na Kia I No Na Keiki O Ka Aina is working to restore a historical lo'i (taro) patch at 'Iole in North Kohala. Both of these projects are led by dynamic project organizers who are passionate about their work.
Annual E-auction will launch in November 2013
We will be launching our famous on-line auction from both our website and Facebook in early November, 2013! This is a great way to support the Center either by donating an item or by making a bid. Watch for exciting items - there's something for everyone!
NKCRC Opens 'Kohala Welcome Center' on 10th Anniversary
North Kohala Community Resource Center's long-awaited Kohala Welcome Center is now open to the public. The center has completed the public restrooms and a beautiful hallway of storyboards for both the community and visitors to enjoy. Continue Reading
Hawaii Business magazine cites NKCRC in the November 2011 edition
The magazine selects six standout nonprofits in Hawaii for a feature article. Check it out at Hawaii Business
Our Most Recent Newsletters & Annual Reports
Catch up with the latest NKCRC news and updates Click here for more info...