Our Latest News
SOLD OUT!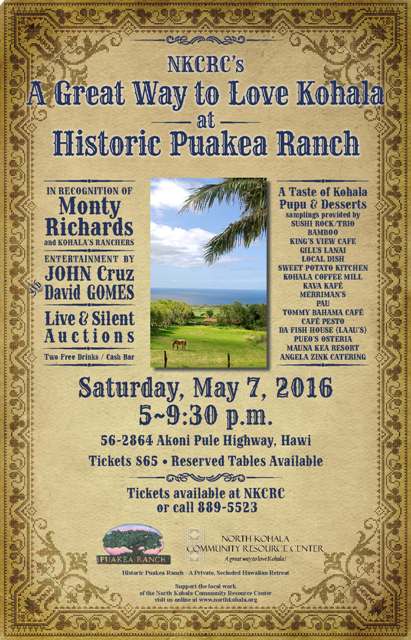 WOW - what an incredible response! Tickets are sold out for NKCRC's 2016 "A Great Way to Love Kohala" Event at Puakea Ranch on May 7, but if you missed out, you can call the office to get on the waiting list - just in case! It's going to be a wonderful evening under the stars with delicious food, incredible music, and good friends at beautiful, historical Puakea Ranch. This year we will be honoring Monty Richards of Kahua Ranch and many other Kohala ranching families. Entertainment by David Gomes and John Cruz! We'll have silent and live auctions as well as the popular "Mystery Bags." Individual tickets are $65 and include pupu, entertainment, and two free drinks. To get on the wait list for tickets, call the Center at 889-5523.
NKCRC Launches Youth Director Program
This fall, the Board of Directors of North Kohala Community Resource Center initiated a pilot Youth Director Program, welcoming three local high school students. This year's Youth Directors are Jessica Tenorio and Kumulani Kaai, Kohala High School Seniors, and Malcolm Davis, Hawaii Preparatory Academy Sophomore.
The purpose of this program is to support Kohala youth by providing an introduction to the nonprofit sector through our grass roots organization. While serving on the board the youth directors learn about how the Resource Center's board and staff operate to effectively govern and manage a community organization. The youth directors attend regularly scheduled meetings, under the supervision of Director-coaches. They have the opportunity to interact with adult Directors, cast their vote on project applications and other matters, and participate in Resource Center fundraisers and other events.
Other opportunities may include attending one of the Resource Center's workshop series and making site visits to youth-oriented sponsored projects. An important outcome of this program is to "grow our own" future community leaders in Kohala by empowering our local youth.
By exploring youth representation on the Board, the Resource Center is fulfilling its ongoing mission by providing both local support and education in Kohala. Youth are often an untapped resource of energy, new ideas, and insight from a community constituency that is often not heard from. The many and varied experiences available to the youth directors will provide a tremendous experience that will encourage local youth to become community leaders and continue to work and serve in their community.
Kohala Bags Available at Welcome Center
Our Kohala Welcome Center now offers customized 100% organic cotton shopping bags for sale. These generously sized bags are strong and great for shopping trips or for the beach. Each is printed with our custom Historic Kohala tapa design.
Our Most Recent Newsletters & Annual Reports
Catch up with the latest NKCRC news and updates Click here for more info...