Mahalo for Your Support!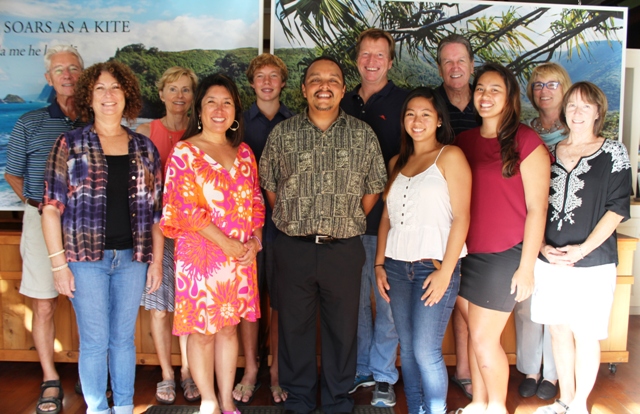 Our heartfelt thanks to the many donors and bidders who supported the Center through our recent Online Auction. With your help, we exceeded our goal and raised $16,171 for NKCRC operations! Your support keeps our doors open and enables us to continue to provide coaching, teaching, access to funding and a nonprofit fiscal umbrella to more than 90 projects that serve the Kohala community. We couldn't do it without YOU!

A Great Way to Love Kohala!
Welcome to the North Kohala Community Resource Center! NKCRC, a 501(c)3 nonprofit founded in 2002, is located on the northern tip of Hawaii Island. Our mission is to increase the number of successful grassroots projects that benefit our community. North Kohala, a vibrant post plantation community located at the end of the road, is large in land area (133 square miles) and small in population (6,300). Our constituents are the project organizers who lead our many sponsored projects. They represent a broad range of the community, including those locally born and raised and transplants from the mainland. We build their capacity by teaching, coaching, supporting and accessing funding for these projects with a 501(c)3 fiscal umbrella. We are convinced that building the capacity of project organizers makes a big difference in our local quality of life.
We have built NKCRC on the principles of transparency and accountability. Increasingly, NKCRC is viewed as an organization that is capable of handling large-scale projects that require experienced management and coordination. Our plans for operating sustainability include establishment of an endowment fund which will enhance our ability for long-term planning.
NKCRC needs the help of generous donors and funding partners like you to continue to support projects that have a positive impact on the lifestyles and landscapes of North Kohala. As a 501(c)3 organization, NKCRC can provide receipts for donations.
If you are interested in being a donor for this important effort, please contact us at 808-889-5523 or email us at info@northkohala.org.
Our Latest News
NKCRC Launches Youth Director Program
This fall, the Board of Directors of North Kohala Community Resource Center initiated a pilot Youth Director Program, welcoming three local high school students. This year's Youth Directors are Jessica Tenorio and Kumulani Kaai, Kohala High School Seniors, and Malcolm Davis, Hawaii Preparatory Academy Sophomore.
The purpose of this program is to support Kohala youth by providing an introduction to the nonprofit sector through our grass roots organization. While serving on the board the youth directors learn about how the Resource Center's board and staff operate to effectively govern and manage a community organization. The youth directors attend regularly scheduled meetings, under the supervision of Director-coaches. They have the opportunity to interact with adult Directors, cast their vote on project applications and other matters, and participate in Resource Center fundraisers and other events.
Other opportunities may include attending one of the Resource Center's workshop series and making site visits to youth-oriented sponsored projects. An important outcome of this program is to "grow our own" future community leaders in Kohala by empowering our local youth.
By exploring youth representation on the Board, the Resource Center is fulfilling its ongoing mission by providing both local support and education in Kohala. Youth are often an untapped resource of energy, new ideas, and insight from a community constituency that is often not heard from. The many and varied experiences available to the youth directors will provide a tremendous experience that will encourage local youth to become community leaders and continue to work and serve in their community.
Kohala Bags Available at Welcome Center
Our Kohala Welcome Center recently introduced customized 100% organic cotton shopping bags for sale. These generously sized bags are strong and great for shopping trips or for the beach. Each is printed with our custom Historic Kohala tapa design.
Our Most Recent Newsletters & Annual Reports
Catch up with the latest NKCRC news and updates Click here for more info...

Want to know more? The Board and Staff of NKCRC welcome your ideas and questions. Please contact us if you would like more details.